Buffet Weddding Package
At Cerana we offer wedding package from as low as RM25++ per person; this includes:
The usage of the whole area at Restaurant Cerana
The preparation of a buffet meal is conducted at the restaurant.
Server are provided with uniform.
Providing the basic necessities such as chairs, a table for 6 people, color themes and serviette for all guests.
Wedding Table Decor for the maximum of 12 peoples including the bride and groom.
To provide a maximum of 5 VIPs table for 6 people per table with preparations such as banquet chair together with seat casing and ribbons.
Use of the stage and lighting system for the thrones provided by the organizers.
Laying out the red carpet to the throne.
The wedding song will be rotated through a CD by the technician on duty.
Public Address System.
Free parking.
The minimum number for this package is 500 guests.
2-storey cake.
Cake Table Decoration.
Instaling the signage board to the location.
CERANA 1 PACKAGE
RM 25.00 ++
Beriyani Rice
White Rice
Red Cooked Chicken
Cerana Beef Rendang
Vegetable Dhall
Bombay's Pickles
Papadam
Orange Juice
Cordial Drinks
CERANA 2 PACKAGE
RM30.00 ++
Beriyani Rice
Spicy Fried Chicken
Vegetable Dhall
Cerana Beef Rendang
Mix Pickles
Papadam
Watermelon Fruit
Orange Juice
Honeydew
Bean Porridge
Cordial Drinks
CERANA 3 PACKAGE
RM40.00 ++
Beriyani Rice
White Rice
Red Cooked Chicken
Bombay's Pickles
Vegetable Dhall
Cerana Beef Rendang
Squid Condiment
Papadam
Watermelon Fruit
Orange Juice
Honeydew
Jelly
Bean Porridge
Cordial Drink
Dome Wedding Package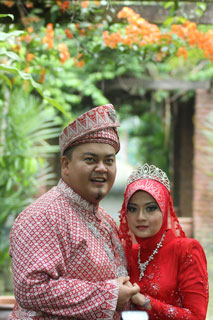 This served package offer from RM55.00 ++ per person include:
Preparation of VIPs Dining Table.
Served using the dome.
Guest eat at once.
Using wine glass.
Napkin for each guest.
Menu cards on the table.
Server with uniform.
Bridal set color your own choice.
Fresh flowers.
Manggar flower provided.
FREE 2-storey cake.
Dining Table Set.
FREE Bridal dish for 12 people.
Bridal table gifts for 12 people.
Laying out the Red Carpet to the throne.
PA system.
Gifts table.
Cake cutting table with fresh flower decoration.
Guest welcoming table.
Free Vouchers from Cerana.
RELA Service.
Exclusive Menu 1
White Rice
Ghee Rice
Spicy Chicken
Vegetable Dhall
Bombay's Pickles
Cerana Beef Rendang
Sweet and Sour Fish
Kalio Prawn
Watermelon Fruit
Orange Juice
Honeydew
Butter Cake
Manggo Cordial
Exclusive Menu 2
White Rice
Beriyani rice
Red Cooked Chicken
Bone Dhall
Creana Beef Rendang
Bombay's Pickles
Three Flavor Fish
Prawn Condiment
Grapes
Watermelon
Oranges
Orange Cordial
Butter Cake